One of the many gorgeous Lake Superior shorelines, Wetmore Landing is a long stretch of sand surrounded by rock formations and hilly terrain perfect for hiking.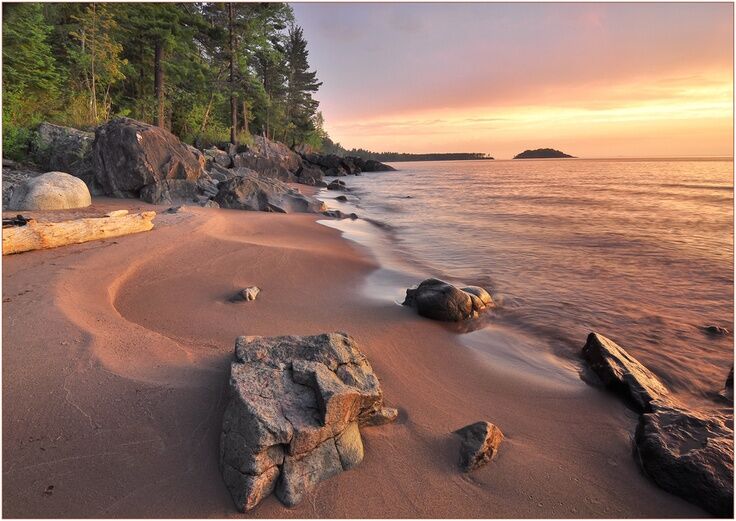 Views of notable landmarks are visible from any point along the beach. Out in Lake Superior, Little Presque Isle sits to the left and Partridge Island to the right. Sugarloaf Mtn. looms behind you and with a pair of binoculars you can see little people scurrying about the lookout.
From this site, you can hike in either direction along the North Country Trail and stumble upon some fantastic spots. To the left, up and down the pine needle covered trail brings you to Rum Runner's Cove, a great swimming hole and awesome rock formation.
Turning right will bring you along a trail which follows the rocky shoreline and becomes increasingly rugged. The end destination is worth the hike though, Hidden Beach. This small stretch of sand is surrounded by 40-60 foot tall sandstone cliffs. Large trees have washed up into the inlet and the imposing walls make for a brilliant off-the-beaten-path spot.
Photo by Greg Kretovic
How to get there: Drive up CR 550 towards Big Bay for approximately 5 miles. Turn right into the first DNR Little Presque Isle Recreation Area, the sign will identify it as "Wetmore Landing". A dirt parking lot is available and obvious trails lead to the beach and the North Country Trail.
*Michigan Recreation Passport Required for parking.